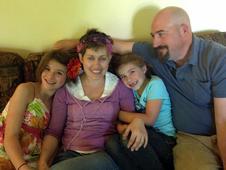 Jennifer Lyman was born in Media, PA on Feb 6, 1972, the youngest of six siblings. She grew up in the town of Moylan, PA and went to Strath Haven High School where she graduated in 1990. Jennifer the attended Penn State University where she studied psychology in the university honors program. There she met Jamie Strange and in 1994, three months after graduation, they were married. The two of them set off on a six-week honeymoon, driving across the country in an old Chevy pick-up. They camped and backpacked in many state and national parks as they went, many of which they would return to in the following years. Their trip ended in Washington DC, where they visited some of Jamie's high school friends who were also looking for a place to live and the four of them rented a house together.
Jennifer quickly got a job working with special needs adults in a group home and independent living setting.
But the Strange's didn't stay long in the big city, looking constantly for a job out west, where they were drawn to after their travels.
Within a year, Jamie landed a job in Prosser, WA and Jennifer soon found a job working at a domestic violence shelter and counseling center. Jennifer quickly moved on to working at the Washington State Child Protective Services office in Sunnyside, WA as a Social Worker.
She would work for the state of Washington for the next decade, working in four different CPS offices. Jennifer developed a reputation as a thorough investigator and policy expert, in addition to being a compassionate social worker. Jennifer made many friends in Prosser and she and Jamie traveled all over the Northwest, hiking, camping, rafting and running as much as they could. Three years later, when Jamie returned to graduate school at Washington State University they again moved, sad to say goodbye. Jennifer worked while Jamie went to school and in 2001, after three years in Pullman, their daughter, Amelia, was born. Jennifer told Jamie she was pregnant on a trip to Egypt where they toured the Valley of the Kings and the pyramids at Giza.
A year later, with Amelia in tow, they moved to the village of Luglon, France, where Jamie was conducting field research for his studies. Jennifer and Amelia spent the next 9 months learning French together and the family traveled frequently in France, Spain, and England.
They hosted family and friends often and returned to Pullman with
fantastic memories of their time abroad.
In 2004, the family grew again when Sylvie was born in Pullman, in the same hospital room where her sister was born. In 2005, the Stranges moved to Ithaca, NY where Jamie worked as a Research Associate at Cornell University.
Jennifer and the girls explored the trails of Tompkins County and frequented the many state parks around Ithaca. They spent the year swimming in streams and making friends, and making as many visits as possible to family along the East Coast. In 2006, the Stranges moved to Logan, UT where Jamie took a permanent job and Jenifer took up skiing and biking in Logan and quickly built a large social network. Jennifer decided to go back to school and get her Masters degree in Social Work at Utah State University. In 2010 she was awarded an MSW and started to work for Avalon
Hills as a Therapist. In 2011 Jennifer became sick with recurrent and strong headaches, eventually going to Logan Regional hospital for a CT scan of her head.
On May 2, 2011, they saw what appeared to be a tumor in Jennifer's left temporal lobe of her brain. On May 19, 2011, at the University of Utah, the tumor was removed and soon after Jennifer was diagnosed with Glioblastoma Multiform (GBM) grade 4 cancer. Since then Jennifer has received
treatments at the Huntsman Cancer Institute, including radiation therapy, chemotherapy, and clinical trials. She had a second surgery on January 6, 2012 and in April 2012, the tumors returned for the third time.
Jennifer's condition continues to worsen, but she always insists on participating in clinical trials when available in case they can help someone in the future. Jennifer recently rode on a tandem bike in the Little Red Riding Hood event despite her loss of balance. She has tried to remain active and engaged with her family and friends through her ordeal.