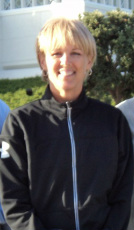 Karen was born in Seattle, Washington and is the third child of ten kids. She has an older brother and sister, two younger sisters and five younger brothers. She went to BYU where she graduated in Health Education. It was there that Karen met her husband, Kyle. They were blessed to have five kids, two boys and three girls. They lived in Provo and SLC as young marrieds and then moved to Gilbert, AZ. It was there they divorced for the first time. Karen got a job teaching Health and PE at a middle school in Moroni, Utah. Karen loved the job and loved teaching. In two years she and her husband remarried. Karen was living in Moroni when she found that she had breast cancer. Karen had chemo and radiation and they said she was cured. Karen went on to get her master's degree in Instructional Technology by distance learning from Utah State University. During that time, it was discovered Karen had cancer. She worked—- completed her masters, taught full time, and was a full time mother, while her husband was working in St. George.
Karen got a job teaching middle school PE. By the time she quit teaching due to physical limitations from having cancer re-occur three more times, she had taught 16 years and was so sad to have to quit and go on disability.
Karen and her husband were divorced but remain friends and work to keep a good relationship for the benefit of their children and grandchildren.
Karen has always loved to travel, yet has not gotten very far around the world. She decided one place she would love to go is New York City during the Christmas season to see the lights. Karen eventually planned the trip. They had a lot of fun, Karen went with her oldest daughter and my middle son, who just came home from his mission for the LDS church a few weeks before the trip. Even with her planning Karen feels that the trip would have been very frustrating and hard without the assistance of One Wish.
They were able to see "Wicked," the Rockettes, the 9/11 Memorial, Rockefeller Plaza and the city lights from there, the huge tree; take a harbor tour to see the Statue of Liberty and a carriage ride around Central Park; eat at wonderful places, and buy Christmas gifts.