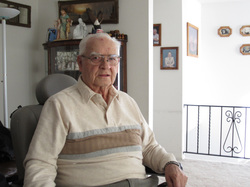 Morris Brough, a man from the small western town of Lyman, Wyoming was raised with a conviction of family, faith, freedom and honor. With love of country and the duty to protect the land and family he cherished, Morris served his country with honor during the Korean War.
Morris and his wife Virginia met in Salt Lake City, Utah where Virginia was working at the LDS Church Office Building. Together strong in their faith were married in 1954 in the Salt Lake LDS Temple. Beginning their life together young, eager and energetic to live the American dream. Morris and Virginia worked and traveled years together and in time carved out a life of memories with their six children. Settling in Smithfield, Utah 32 years ago they made Cache Valley their home.
Morris was a Teacher and Steam Fitter at Utah State University. He enjoyed with his family hunting, camping, leather work and gardening. In their later years Virginia was diagnosed with dementia and Morris suffered from Artery disease in which he began treatments and physical therapy. The progression of these debilitating diseases has challenged Morris and Virginia and their family. Virginia needing additional care and was admitted to a Long Term Care Center and Morris at home is cared for by his children full time.
Together as a family they care for their parents. Wanting to create a lasting memory one more time they contacted One Wish, Inc. and nonprofit foundation dedicated to making a wish come true for someone struggling with the challenges that come to them and their families as they near the end of a terminal illness.
Due to Morris' faith and love of the Gospel of Jesus Christ his wish was to be able to attend a concert of the Mormon Tabernacle Choir, this wish was granted to Morris, Virginia and their family as they attended the Mormon Tabernacle Christmas Concert in December of 2011. The volunteer's at One Wish, Inc. were honored to work collectively together with those in the community and the LDS church to facilitate Morris and his family with Dinner at Maddox Fine Dining in Brigham City, Utah as well as a wonderful evening of music, family, and the Christmas Spirit.