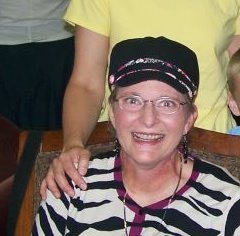 Wife, mother, sister, daughter, healer, horse lover, sharing friend: Our loving Patty returned home to her Heavenly Father early Wednesday, Aug. 8, 2012 after a five year battle with IBC. Patricia Suzanne (Zeedyk) Jones was born Monday, Oct. 3 1960, in Henderson, Nev. – making the whole world a little brighter. She grew up in southern Nevada and graduated from Clark High School in Las Vegas in 1978. She attended Ricks College where she met her eternal best friend, Laryn "Lary" R. Jones. They were married for time and all eternity in the St. George LDS Temple on Saturday, Sept. 12, 1981. Their love story is one of deep and eternal friendship, lots of laughs, common goals, love, desire and faithfulness.
Patty graduated as a physician assistant from the University of Utah in 1991. She said that medicine chose her, and loved working with Dr. Glenn Mortensen in family medicine in Cache Valley. The lives she touches are a tribute to her professional standards and her heart's sensitivity to the needs of others. Medicine was her profession, but it was the people who made her love it. She treated all with respect, love and friendship. Patty's talent to heal extended beyond physical ailments, and she will be missed more that words can convey. Patty had two great loves – her Savior and her family. She was a faithful member of The Church of Jesus Christ of Latter-day Saints. She loved to serve, doing so with her whole heart. Her favorite area of service was her Young Women. She tried to share the love of Christ with others so they might know they were children of a loving Heavenly Father. She "adopted" many daughters (and sons) through her years of service, building bonds that have continued to grow. Girl's Camp, laughing, loving and sharing knowledge that Christ understood what no one else knew – expressing her faith in each person and in her Savior.
Patty's other great love was her family. Patty and Lary raised four children, Carri Beth (1982 to 2008), Kali Nichole, Sean David
(married to Megan Olson) and Tyler Richard. Patty's greatest priority was her family. She helped her children discover themselves through dancing, horseback riding, swimming, karate, horseback riding, basketball, camping, horseback riding, kick ball, softball, photography, singing, art, horseback riding, sewing, acting, horseback riding, piano, cello, violin, bassoon, flute, theater, Boy Scouts, hiking, the perfect addition of Megan the Wonderful, and summer vacations.
Patty was there for her children. She tried always to make sure her children knew she loved each of them and supported them and their dreams. She believed in people. She leaves a tremendous legacy of love and an aching void of vacancy. She LOVED being "Grandma Patty".