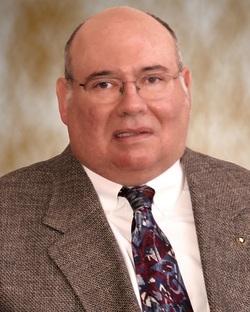 Steve was born in September 1951 in Glen Ridge, New Jersey. He and his sister Trish were raised in Pompton Plains, NJ. His mother's family is from Sicily and his father's family is from Hungary.
During the summers when he was in undergraduate school Steve worked a lifeguard at a lake in NJ. He graduated from Belknap College in New Hampshire with a BS in Meteorology and the summer after graduation he lived in an observatory near Lake Winnipesaukee. Steve met Paula while they were attending different colleges in New Hampshire. In 1973 they were married in Tamworth, NH (outdoors, by the river, behind the Inn). They lived on Hampton Beach, worked at McDonald's and attended the University of NH before they moved to Utah in the fall of 1974 to attend USU. (Yes, they are almost older than dirt!)
Steve came to USU as a graduate student and earned a MS in Biometeorology. He completed his credential as a science teacher, his Library Media endorsement, an EdD in Curriculum & Supervision, and ESL endorsement at USU.
Although he is now retired, Steve has been a Library Media Teacher (in Jordan and Cache school districts); classroom teacher and assistant principal in a middle school; an evening school coordinator; a district-level administrator; college instructor, a high school principal and has supervised secondary level student teachers for USU.
He has served on the board of directors for national and local organizations including Stokes Nature Center.
Steve was always been involved in some kind of activity. He was on his college baseball team, and before his disability he played tennis, golf, softball and was an avid fisherman. He still enjoys camping, but has given up tents and moved on to a camper trailer.
Steve is a big admirer of Theodore Roosevelt. He enjoys reading anything by or about him and collecting TR memorabilia. His favorite TR quote is "Do what you can, with what you have, where you are."
Steve's favorite sports team (besides the USU Aggies) is the Boston Red Sox. And his first car was a yellow 1964 Ford Mustang. His favorite animal is the moose.
Steve and Paula have two children. Son John lives in Emmett, ID with his wife Jessica, daughter Aspen (just turned 3), baby yet to be named (due June 2012) and chocolate lab Hailey. Daughter Jennifer lives in Ogden with her beagle, Dixie.